Content Selector
Icons on the map of the selected theme are visible in scale better then 1:25000.
Icons for towns/villages are visible in scale better then 1:100000.
Icons for addresses are visible in scale better then 1:7500 (if selected).
Izbor vsebine
Ikone posamezne izbrane teme se prikazujejo od merila 1:25000 navzgor. Izberi pravo merilo!
Ikone mest in vasi so vidne od merila 1:100000 naprej.
Ikone hišnih številk so vidne od merila 1:7500 naprej (če so izbrane).
Help
Within Map window maps and entities are displayed. User can:
pan the map by clicking a map or by clicking green rectangles of map frame,
drag picture,
draw zoom rectangle.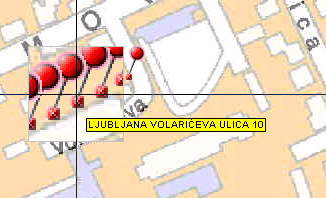 User can activate local Spy Glass by pressing SHIFT key on the keyboard.
Area around the cursor will be magnified by factor 2.
User can also select seven diffent parameters how the map should be displayed:
scale of the map,
color of the map,
show / temporaty hide icons,
show / hide grid,
show / hide ruler,
number of map colours,
map quality.
Pomoč
Zemljevid je namenjen prikazovanju (kartiranju) objektov. Uporabnik lahko zemljevid premika:
s klikom zelenih puščic na robu zemljevida,
s klikom točke zemljevida, kliknjena točka postane središče zemljevida,
z risanjem pravokotnika na zemljevid.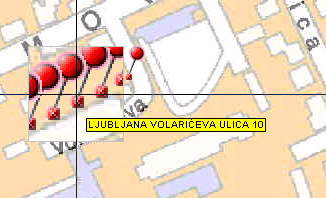 Uporabnik lahko aktivira lokalno povečevalno steklo s pritiskom na tipko SHIFT.
Področje zemljevida, ki je v bližini kazalca miške, se poveča za faktor 2.
Uporabik lahko izbira med sedmimi različnimi možnostmi, kaj in kako prikazati zemljevid:
merilo,
barva,
začasno skrije / prikaže ikone,
skrije / prikaže mrežo,
skrije / prikaže merilo,
število barv,
kakovost izrisa zemljevida.